Each wand is crafted by hand.
Fitchel & Sons wands come with a certificate displaying the consecration date
as well as the name by which the wood shall be addressed during your period of service together.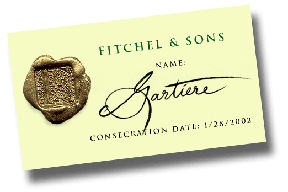 Each bears its own name.
One introduces the spirit into the wood in a ceremony which can only be described privately.
Touch the link below to continue.

About Fitchel & Sons / The Wands / Home / Order Wand / Email Us / New! WANDING by Evan Twede / Frequently Asked Questions
©2002 Fitchel & Sons, USA / Distributed by Lostwood Arts